Virtual & Remote Opportunities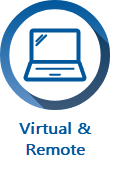 According to a study released in November by Fidelity Charitable, two-thirds of all volunteers had either decreased or stopped their volunteering because of the pandemic. At the same time, COVID-19 has drastically increased demand for many nonprofits' services.
Virtual Volunteering offers flexibility in scheduling and allows individuals to offer specific skills to a wide variety of organizations while also staying safe.
Please wait...